Whatever you're into
Lazy weekend café hopping, action-packed adventures, or zipping around getting stuff done. Whatever you're into, get into it with the new Vitara Safari. The limited edition SUV adds to Vitara's rugged, go-anywhere performance, 5-star safety and flexible interior space with a range of accessories – perfect for Kiwis who want to load up and get out there!
SAFARI LIMITED EDITION
LOADED WITH EXTRAS
Roof racks, body protection kit, cargo tray, side graphics
THE ADVENTURE STARTS HERE
2WD OR ALLGRIP AWD
Confident SUV performance and handling
EXCEPTIONAL FUEL EFFICIENCY
5.8 LITRES PER 100KM*
Kind on your pocket and the environment
*ADR 81/02 results for 2WD manual combined cycle
Loaded with extras
Time to gear up and get going! The Vitara Safari is packed with accessories and ready for adventure. You'll fit more into your day with these cleverly designed features to take loads of gear and get you moving in unmatched style.
Black side body mouldings
Black front bezels
Roof racks
Smoked bonnet protector
Rear cargo tray
Safari side graphics
Fit more in
Inside, outside…the Vitara Safari boasts an amazingly spacious design, giving you plenty of flexibility for loads of gear, large items, and extra friends. Now you can pack more into your days.
Performance defined
Fitting in a lot more adventure between fills, the Vitara Safari is all about effortless performance and capable efficiency. Its smooth 1.6 VVT or a breathtaking BoosterJet Turbo is paired with a suspension tuned to ensure the best possible combination of stability, comfort and quietness.
Available in either easy-shifting 5-speed manual or the responsive 6-stage automatic.
5.8L/100km*
Vitara JLX 2WD Manual
6.2L/100km*
Vitara JLX 2WD Auto
6.5L/100km*
Vitara JLX AWD Auto
5.9L/100km*
Vitara Turbo 2WD Auto
6.2L/100km*
Vitara Turbo AWD Auto
6.8L/100km*
Other Small SUVs
*Other Small SUVs combined fuel economy figure of 6.8 L/100 km is an average of all competitors in the petrol Light Cars segment for 2019 according to the NZTA.. *ADR 81/02 results for combined cycle. Fuel consumption will vary due to factors such as vehicle condition, driving style and traffic conditions.
Safety on hand
Adventures are all about taking risks, so it's good to know you're in safe hands when you drive the Vitara Safari/the Vitara Safari's got your back. Five star ANCAP rated, its TECT body design, 7 airbags, reverse camera and suite of safety features offer exceptional driver and passenger protection.
Step up into the Turbo Safari with advanced safety technology like Dual Sensor Brake Support, lane departure warning, weaving alert, blind spot monitoring and rear cross traffic alert.
Wherever you want to go
There's no such thing as one road with Suzuki's unique ALLGRIP 4-wheel Drive system. Take control with the Vitara Safari AWD's four easy ALLGRIP SELECT modes (Sport, Snow, Lock, and Auto).
Transform and maximise the Safari's performance and handling according to the road surface and weather conditions.
Interior Intuition
Short or long… every journey is one worth taking in the Vitara Safari. Innovative features such as the 7 inch touchscreen with Sat Nav, Bluetooth, and Apple Carplay or Android Auto™ put entertainment, connectivity, and information at your fingertips. Handsfree controls on the steering wheel let you take calls, change songs, set your speed without taking your eyes off the road. Sit back, relax and drive.
See the Range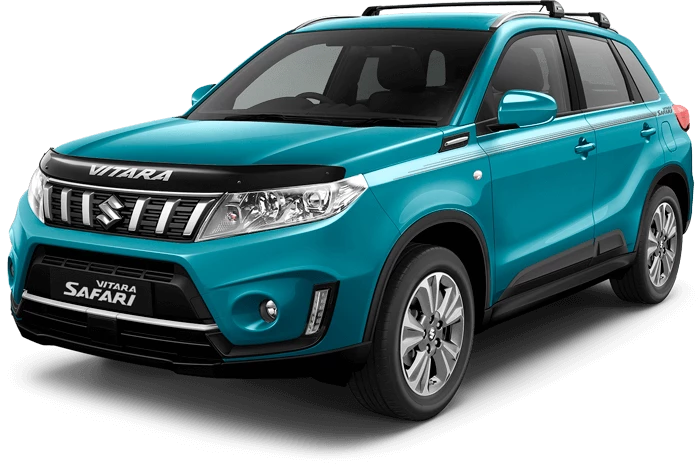 Vitara Safari
JLX 2WD Manual
17 inch alloys
Climate air-conditioning
Cruise control & speed limiter
Android Auto™ & Apple CarPlay®
Touch-screen Sat Nav with reverse camera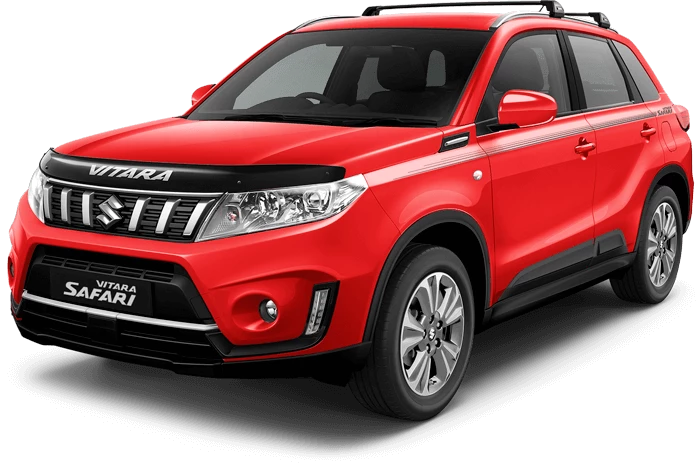 Vitara Safari
JLX 2WD Auto
17 inch alloys
Climate air-conditioning
Cruise control & speed limiter
Android Auto™ & Apple CarPlay®
Touch-screen Sat Nav with reverse camera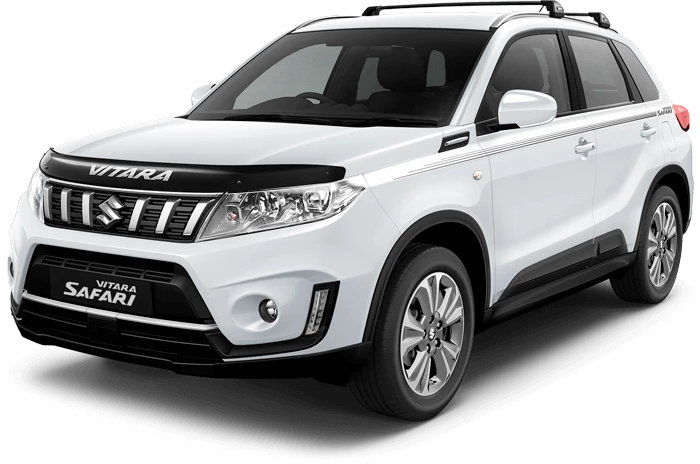 Vitara Safari
JLX AWD Auto
ALLGRIP AWD drive system
17 inch alloys
Climate air-conditioning
Cruise control & speed limiter
Android Auto™ & Apple CarPlay®
Touch-screen Sat Nav with reverse camera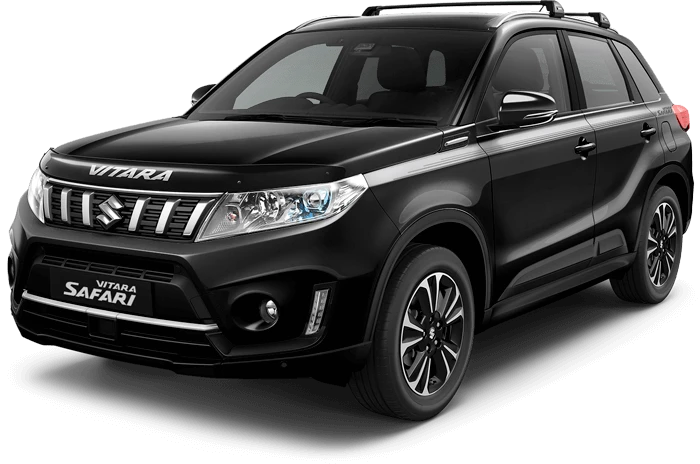 Vitara Safari
Turbo 2WD Auto
BoosterJet advanced turbo engine
Keyless entry & push button start
Leather & suede type fabric
Android Auto™ & Apple CarPlay®
Reverse camera & rear parking sensors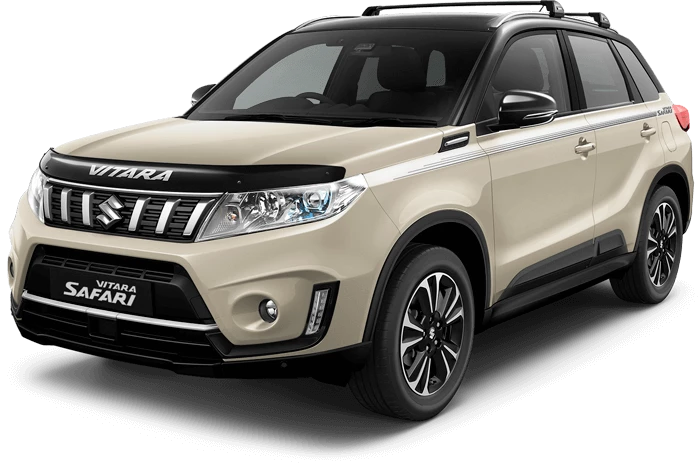 Vitara Safari
Turbo 2WD Two Tone
BoosterJet advanced turbo engine
Keyless entry & push button start
Leather & suede type fabric
Android Auto™ & Apple CarPlay®
Reverse camera & rear parking sensors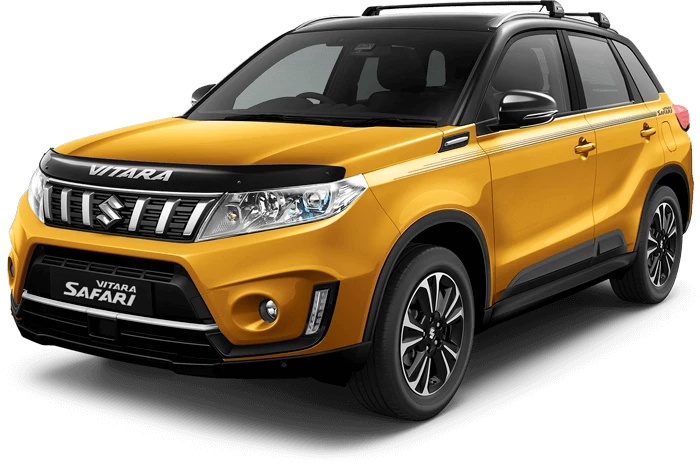 Vitara Safari
Turbo AWD Auto
ALLGRIP AWD drive system
BoosterJet advanced turbo engine
Keyless entry & push button start
Leather & suede type fabric
Android Auto™ & Apple CarPlay®
Reverse camera & rear parking sensors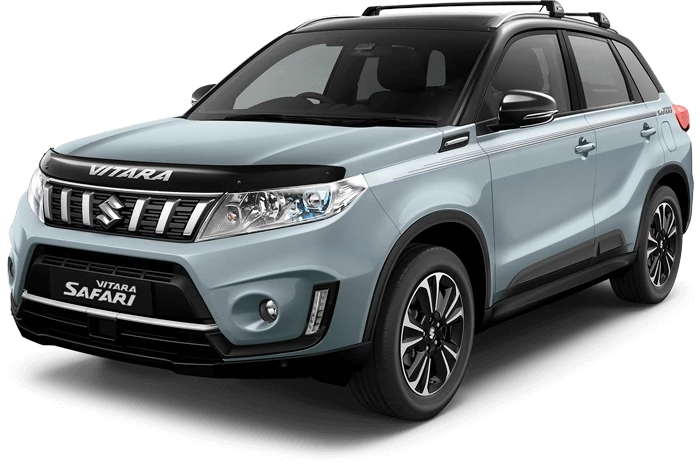 Vitara Safari
Turbo AWD Two Tone
ALLGRIP AWD drive system
BoosterJet advanced turbo engine
Keyless entry & push button start
Leather & suede type fabric
Android Auto™ & Apple CarPlay®
Reverse camera & rear parking sensors
Napier Dealers
Hastings Dealers
Manawatu Dealers
Bayswater (Hyundai / Isuzu)
Address
115 Carlyle Street, Napier
Phone
06 835 2388
Sales Hours
Mon-Fri: 8:00am – 5:00pm
Sat: 9:00am - 4:00pm
Sun: 10:00am - 4:00pm
Service Hours
Monday-Friday: 8:00am – 5:00pm
Saturday: 8:00am - 12:00pm
Get Directions
Bayswater (Suzuki / Subaru)
Address
121 Carlyle Street, Napier
Phone
06 833 5718
Sales Hours
Mon-Fri: 8:00am – 5:30pm
Sat: 9:00am - 5:00pm
Sun: 10:00am - 4:00pm
Service Hours
Monday-Friday: 8:00am – 5:00pm
Saturday: 8:00am - 12:00pm
Get Directions
Bayswater European (Jaguar / Land Rover / Volvo)
Address
93 - 107 Carlyle St, Napier
Phone
06 650 0799
Sales Hours
Mon-Fri: 8:00am – 5:00pm
Sat: 9:00am - 4:00pm
Sun: By Appointment
Service Hours
Monday-Friday: 8:00am – 5:00pm

Get Directions
Bayswater (Hyundai / Isuzu / Subaru)
Address
1112 Heretaunga St West, Hastings
Phone
06 876 9394
Sales Hours
Mon-Fri: 8:00am – 5:00pm
Sat: 9:00am - 4:00pm
Sun: 10:00am - 4:00pm
Service Hours
Monday-Friday: 8:00am – 5:00pm
Saturday: 8:00am - 12:00pm
Get Directions
Hawke's Bay BMW
Address
822-824 Karamu Road North, Hastings
Phone
06 873 0055
Sales Hours
Mon-Fri: 7:30am – 5:30pm
Sat: 8:00am - 3:00pm
Sun: By Appointment
Service Hours
Monday-Friday: 7:30am – 5:00pm

Get Directions
Manawatu BMW
Address
44 Grey Street, Palmerston North
Phone
06 952 6940
Sales Hours
Mon-Fri: 7:30am – 5:30pm
Sat: 8:00am - 3:00pm
Sun: By Appointment
Service Hours
Monday-Friday: 7:30am – 5:00pm

Get Directions